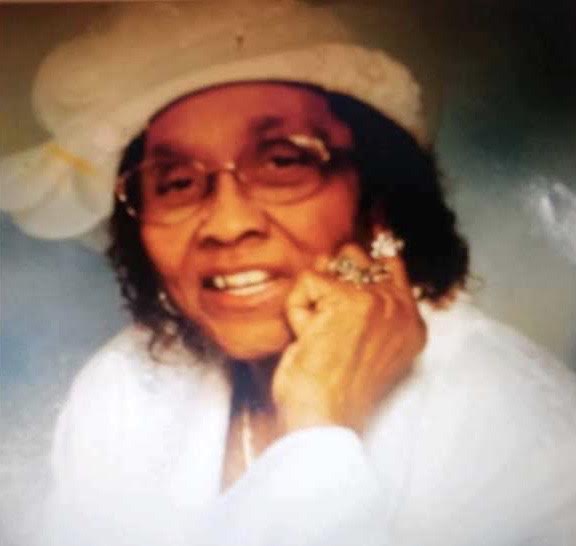 July 22, 2020
of Dallas, TX, transitioned Wednesday, July 22, 2020. Public viewing/walk-through to be held, Saturday, August 1, 2020 10:00 AM – 11:00 AM at V.B. Barlow Memorial Chapel Covington, TN 38019. A graveside service will be held at 12:00 PM on Saturday, August 1, 2020 at Salem MB Church Cemetery, 124 Salem Road Mason, TN 38049.
Lula Mae Green Conner was born on May 13, 1926 to the late Willie Dye and Mary Ellen Adams Dye. She was the youngest of two children.  Her parents and brother Lawrence preceded her in death.
Sister Green Conner confessed Christ at an early age and was baptized under the guidance of her grandfather, Pastor Noah T. Adams.  She grew up in the Salem community attending school and church there. And as an adult she was a faithful, dedicated member of Salem MB Church, where she sang in the Adult Choir and served on the Mothers Board.
She was joined in marriage to Lewis Peete as a teenage bride. From that brief union, one daughter was born. She later married James (Jim) Green and they had three sons and one daughter. William Conner, a  war Veteran met and married Ms. Lula upon his return home years later.  They had one son and one daughter and lived in Millington. Mr. Conner passed away in 2007.
She leaves to celebrate her legacy, three daughters, Diane Conner of Dallas, TX, Cleo Harper of Fort Worth, TX, and Mae Green Kehl (Dennis) of Benton Harbor, MI. She also leaves three sons, James Green Jr. (Deborah) of Los Angeles, CA, Lawrence Green of Milwaukee, WI and Willie Green (Debra) of Milwaukee, WI. Her children were her greatest blessing . She also leaves two nieces, Barbara (Willie) Mitchell of Helmut, CA and Elaine Lane of Pasadena, CA.  She leaves four sister in laws, Essie Harwell of Millington, TN,
Mamie Peete (Rupert) of Millington, TN, Willie Beatrice Vann (William) of Millington, TN and Gerline Wright of Memphis, TN. She also leaves a host of grandchildren, great grandchildren, nieces, nephews, and cousins.
Her son Eugene passed away in 2014, but during his lifetime, he was an excellent provider for her in her golden years and a great source of pride and joy.
In 2007 she moved to Dallas, TX with daughter Diane. She loved living in Dallas and enjoyed worshiping at the Greenville Avenue Church of Christ.  She also continued to cook delicious meals, enjoy family gatherings and celebrations, and serve as the matriarch of five generations.
In 2014, she received a Certificate of Appreciation from the Governor of Tennessee for her prior outstanding service to the state. In 2017, she begin to experience health challenges, but she soldiered on and kept the faith. She had a favorite saying "I don't plan to rust out, I plan to wear out". And she did with grace, style, and elegance.
In accordance with local, state and federal guidelines, face masks/coverings are required to enter Barlow Funeral Home.